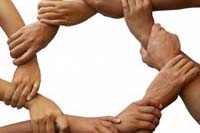 Build support for your green ideas.
Non-profit organizations play a vital role in our community. We should know, as we've been helping non-profits in a variety of capacities for twenty years. Looking to launch a green initiative? Hoping to grow support for a community outreach program? We can help.
Each day, one in five people are in a school. School facilities have the potential of transforming the education system and serving as a living laboratory of ideas. Eric is one of the authors of the critically acclaimed book, "Sustainable School Architecture" and has worked with School Districts around the country. If your school isn't a "Green School," it should be. Contact us to today to uncover the benefits for your school.
Whether it is design of your facility, or simply to have an experienced voice on your side, we can help.
---
Ways we can help you
Add our experience to your team to help shape your programs and outreach. We sit on the boards and advisory boards for dozens of organizations.
Let us review your sustainability goals and audit your existing facilities to identify ways to reduce energy use and improve performance.
Have us create new sustainability programs, connect you to potential partners and train your members.
---
Non-Profit & Educational Experience










---

Research Areas
The focus of our research efforts continually expands as we target new topics annually. For cutting edge data on renewable energy, sustainable redevelopment, and more, explore our industry intelligence.

Book a Consultation
You can tap into our expertise right now. Even if you need just a few of hours of advice, we're here to help. Schedule a consultation right now. Often you can find an opening the next day.

Tap Into Our Expertise
If you're renovating your offices, planning a move or greening a school facility, you can get most of your questions answered in one of Eric's books. Grab your copy today!